Welcome to The Horton Grand Hotel
Experience Historic Charm with Luxurious Comfort at Our Boutique San Diego Gaslamp Hotel
If you're looking for the best of San Diego Gaslamp hotels, you can't beat the Horton Grand's unique combination of historic décor, class, and luxurious comfort. Located in the very heart of downtown San Diego, the Horton Grand Hotel is one of the most charming urban boutique hotels the city has to offer.
Step inside and rediscover the timeless Victorian charm of the 1880s. Each room is adorned with handcrafted antique furniture, marble-framed gas fireplaces, and detailed architectural elegance. Enjoy complimentary wireless internet access, your own coffee/tea machine, and a flat-screen television as you relax in the distinctively historic accommodations.
Reserve your room or suite at the Horton Grand Hotel, and experience a truly unique destination among San Diego boutique hotels, offering warm service and charming Victorian-era style at a competitive price.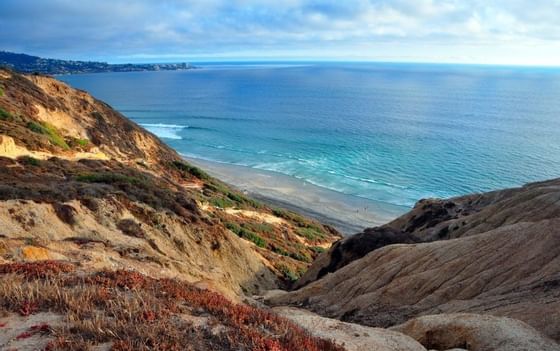 Local Beaches
San Diego beaches are more than a boundary dividing land from sea, more than a place to swim or sunbathe. Enjoy surfing, sailing, biking, running, water skiing, swimming and diving.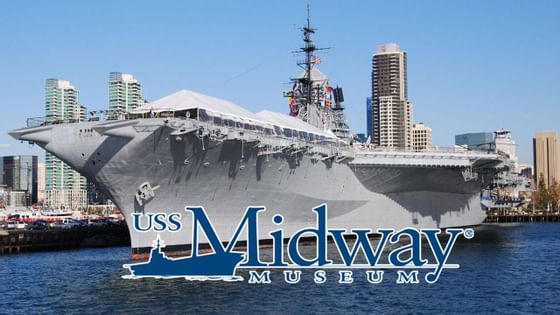 USS Midway Museum
Located on and in a retired aircraft carrier permanently docked in the Embarcadero, the Midway Museum features a massive deck covered with naval aircraft from World War II through Operation Desert Storm. You can also venture into the aircraft carrier to explore interactive exhibits that include recordings of actual conversations between military pilots, a flight simulator and more.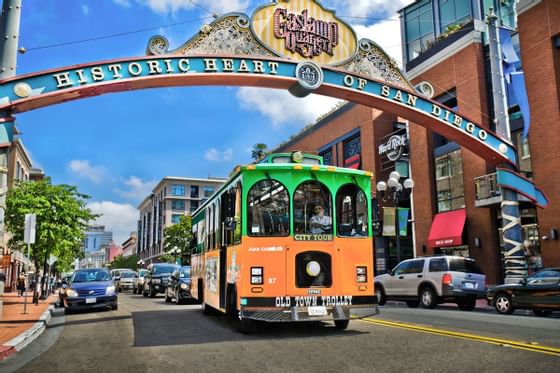 Old Town Trolleys
Discover America's Finest City aboard Old Town Trolley Tours of San Diego. This two hour, fully narrated tour will show you San Diego and Coronado. With 11 stops, guests can disembark for shopping, dining and attractions.
Moments From It All
As our guest, you are only a short walk away from San Diego's Convention Center, Petco Park, and a plethora of restaurants, bars, and other attractions. Explore the enchanting shops at Seaport Village San Diego, tour the USS Midway, see a performance at SeaWorld, or take in the stunning scenery at Balboa Park. Best of all, the San Diego Trolley conveniently stops in front of the Horton Grand, making it easy to access the best of the city.